About Us
Nile Micro Finance is a limited liability company registered in 2007 and domiciled in Uganda.
Our core values are; being considerate of local conditions, faster and better services, Win-win relationship, trustworthiness and innovativeness. These values are infused in each and every staff such that we are common person centered in all that we do. These cherished values have brought us this far and we hope to do better and bigger in the future. We continuously reengineer our products and delivery methods to be relevant to the target market. We are the pioneer indigenous tier four micro finance institution formerly registered and recognized in Arua,Uganda. We are premised upon delivering micro credit to the unbankable majority of Small Micro Enterprises in Arua. We offer various affordable loans of different sizes tailored for the needs of the informal sector and low end salary earners.
Our Background:
Nile Micro Finance is a limited liability company registered in 2007 and domiciled in Uganda. Our physical location is Plot 45 Go Down Road Arua Municipality, West Nile Region. Our vision is to be the choice of Small and Medium Enterprises (SME) in West Nile Sub Region. We aim to serve the market niche that finds it difficult to access services from the large conventional financial institutions (especially tiers 1-3). In essence and practice we are biased to the less privileged in our communities.
Nile Micro Finance (U) ltd is a member of Association of Micro Finance Institutions in Uganda (AMFIU).   AMFIU regularly reviews the performance of the institution using internationally recognized Performance Monitoring Tool (PMT) which look at Performance Indicators (Profitability indicators, Liquidity and Funding, Capital ratios, Portfolio Quality, Operating Efficiency and Productivity of Loan Portfolio, Outreach to Loan Clients) and Economic Indicators etc.
We have weathered many storms to get this far today. This substantial progress would not have been possible without the involvement and support of dedicated staff, committed and professional executive, loyal customers, visionary Board of Directors and enabling environment provided by the public and government. We strive to demystify traditional banking and make financial inclusion a reality. This way we can improve lives of the common person and make our world a better place for us all.
We are a unique entity that will offer you services to your expectations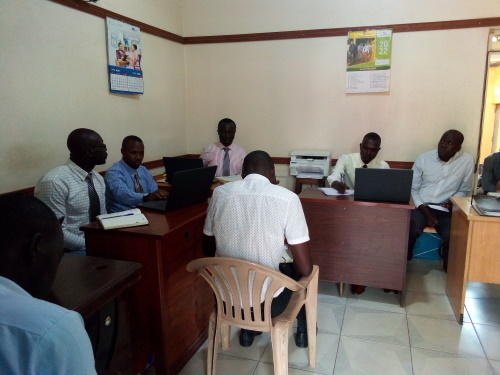 Satisfied? We're here to help! Call Us Today!